Asian Longhorn Beatle
Asian long-horned beetles arrived from China and Korea and feed upon all types of hardwoods. They seem to prefer maples but have also infected horse chestnuts in New York. Asian Long-horned beetles are not native to the U.S. and therefore have no natural enemies. Insecticides are not effective againist these pests. Infected trees are cut down and burned after adult beetles have died in late autumn or winter. Infestations have been found in Brooklyn and Amityville. If you believe that you have discovered these pests collect a sample and call your local cooperative extension or regional DEC office.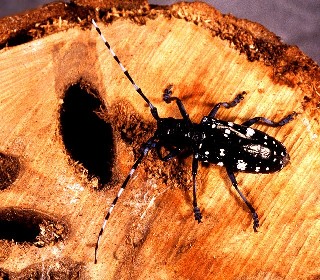 Image Courtesy : Fact Monster
Giant Hogweed
Giant Hogweed (cartwheel flower) is now considered an invasive species. Giant Hogweed like other invasive species has been introduced to our environment by gardeners, first being introduced from Europe as an ornamental flower. This plant has been located in several states including New York.
CAUTION! THE SAP FROM THIS PLANT MAY CAUSE BLISTERS ON SKIN AND BLINDNESS IF CONTACT IS MADE WITH EYES.
DO NOT try to mow, cut, or weed wack this plant. Avoid all contact, if contact must be made the NYS health department advises the use of rubber gloves. For more information on this plant visit the NYS Health Website.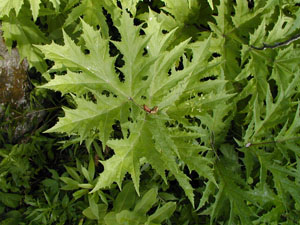 Image Courtesy : Connecticut Invasive Plant Working Group
Our Watchlist
Here are a few plants and insects to look out for that are currently active in your area. These species and insects are invasive, and quick action might be nessasary to keep your yard in shape.
Resources
Contact us 24'7 - By Phone, mail, or email.

Telephone: (585-964-2376) If we are not avaliable, leave a message and we will return your call as soon as we are able.

Email: safarilandscape@rochester.rr.com
Let's work together. Send us an (585) 964.2376